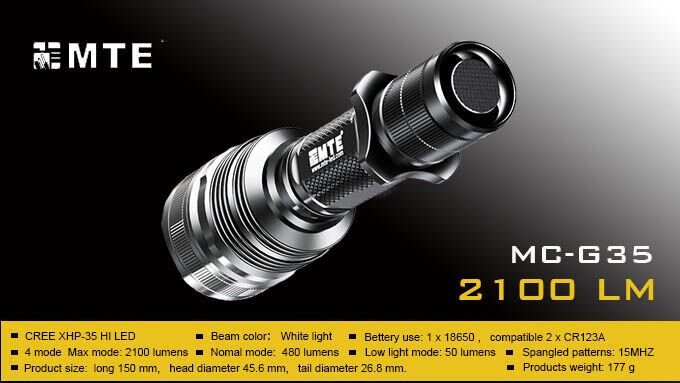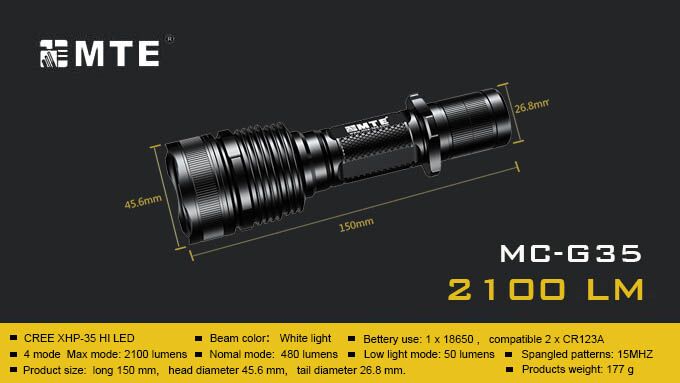 ◎CREE XHP-35 HI LED
◎Ultra-high output in a standard size flashlight. max output of up to 2100 lumens
◎Built-in 4 mode illumination patterns
◎ 1. High mode: 2100 lumens
◎ 2. Normal mode: 500 lumens
◎ 3. Low light mode: 50 lumens
◎ 4. Spangled patterns: 15MHZ
Features intelligent memory function (except for 15 MHZ modes).
Light touch the tail cap, shut off then open again will switch to the next mode.
Turn on and turn off time keep in one second.
◎Bettery use: 1 x 18650 , compatible 2 x CR123A
◎Product size: long 150 mm, head diameter 45.6 mm, tail diameter 26.8 mm.
◎Products weight: 177 g
Max distance of up to 800 meters.
High efficient constant current circuit board provides constant illumination.
Battery Reverse polarity protection.
Toughened ultra-clear mineral glass with anti-reflective coating.
Constructed from aero grade aluminum alloy with HAIII military grade hard
Waterproof in accordance to IPX-8
Impact resistant to 1 meter.